LMS365 provides a modern, secure, cloud-based learning management system suitable for a digital workplace.
Learning Management System is a learning management system installed on a web server that is used to manage, distribute, monitor and evaluate an institution's or organisation's non-face-to-face training activities.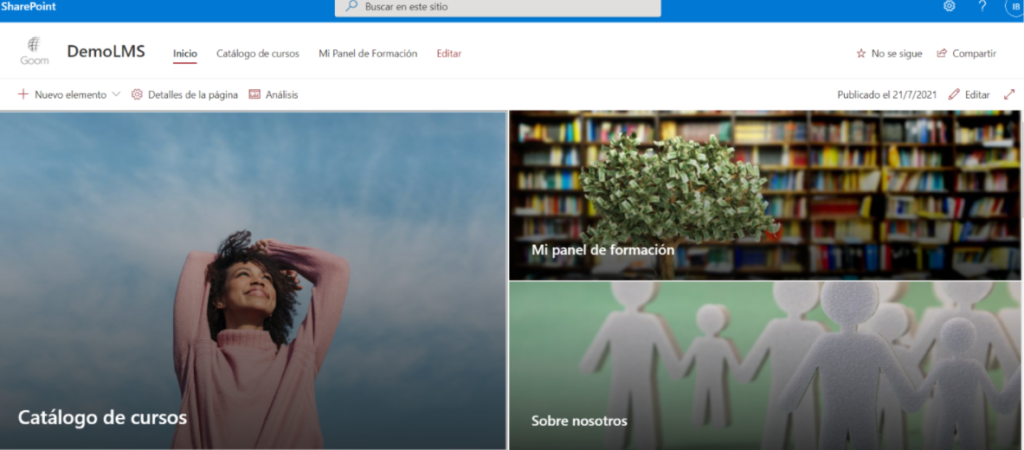 It eliminates complexity by providing a complete learning solution that integrates easily into your existing Office 365 and SharePoint. LMS365 can be easily accessed from the browser, from the mobile app, or from within Microsoft Teamsallowing all companies to deliver courses in any context, anytime, anywhere. No need for separate logins, users or passwords, with Office 365 sign-in you have access to LMS365 easily and conveniently.
The implementation of LMS365 is quick and easy and allows for a high level of configuration. The tool provides for three types of users:
LMS 365 can be integrated with Microsoft Viva Learning for a new employee experience. The recent integration of the two platforms provides access to learning resources for a seamless experience in the digital environment.
LMS365 allows you to incorporate a scalable learning management tool into your Microsoft ecosystem that adapts to the needs of your company. It is deployed on the Microsoft 365 and Azure platform and is therefore integrated with the rest of your digital workspace. It allows users to work on their favourite tool: Microsoft Teams or SharePoint Online using their computer, tablet or smartphone. 
We are an LMS365 and Microsoft Gold partner with experience in the digitisation of the Human Resources area. Tell us about your case and we will offer you the best alternatives for your business needs.
Do you want an appointment with a consultant?
Contact us with no obligation and we will advise you. Start the digital transformation of your company!