As already allowed in the dashboards, it is now possible to add comments in the reports of the business intelligence tool.
With the report commentig it is possible to add comments directly on the report pages or on specific charts in Power BI. In this way, team members can discuss about the data. A highlight of this new capability is that when starting a new conversation, Power BI automatically marks the report view. This way, when others read the comment they can see the report as it was when the comment was written. This new capability is also available on mobile devices.
In addition, these comments can mention other people in the organization, Power BI immediately sends them a notification.
Starting a conversation
Within the report page, a new button appears on the top bar: 'Comments'. When clicked, it opens the comments panel. If there are previous comments in that report, they will be displayed in that panel. It is possible to reply to an ongoing conversation or start a new one. The same is true on mobile devices.
As in the dashboards, there are two levels of comments that are visible when opening the comments panel in the top bar:
Report- page level. A comment that generally pertains to the report page and does not draw attention to a single chart.
Visual level. A comment that is linked to a graph in the report.
All conversations within the reports have the bookmarkicon below the avatar (as shown in the image). Power BI automatically captures a bookmark for each conversation in the report (including filters and other changes in the data view).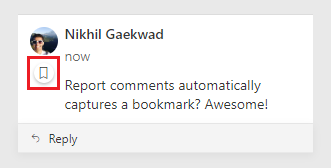 Clicking on this bookmark icon or anywhere in the conversation box will apply the bookmark. This way, you are in the same view as the author at the time the comment was posted.
In addition, there is a page for quick reading of all conversations by adding a 'Previous' and a 'Next' button at the top of the comments page.
Comment on specific graphics
By clicking on the ellipses and 'Add a comment' from the drop down you can comment on the graphs. By selecting this, the comment will automatically link to that graph. It is also possible to filter the comments within the page for that chart. At any time, you can return to all comments on the report page by clicking on 'All comments'.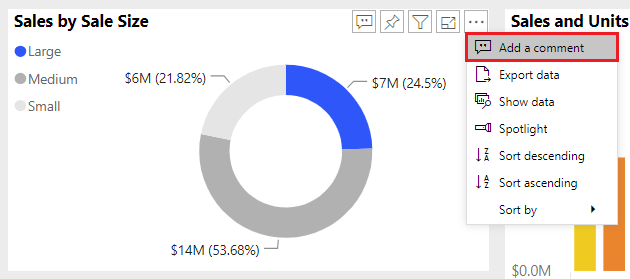 Mentions to main users
If when a comment is made it is necessary for someone in the organization to see it, the individual can be mentioned to get their attention. Individuals mentioned will receive an email and, if they use the Power BI mobile app, a notification will pop up on their device.