Since the outbreak of the pandemic two years ago, the work paradigm has not stopped changing. More and more companies and workers are opting to combine the benefits of teleworking and face-to-face work with new ways of working in a hybrid context. This new paradigm presents new challenges for organisations in terms of management and internal cohesion, as well as the need to find tools that respond effectively to this new reality.
Microsoft has made great strides in these apps over the past two years, introducing new features and improvements that are paving the way for workers and businesses. In this article we look at some of the new apps and some improvements for the hybrid worker.
What's new in Outlook
According to Microsoft's Workplace Trends Index 2022 , 38% of workers say they are unsure when to come to the office and when not to. In the second quarter of this year, a new Outlook update will make it possible when confirming attendance at meetings to indicate whether it will be face-to-face or online.
Teams Rooms
The experience with add-on devices in Teams Rooms is strengthened. For example, when a user joins a meeting with their personal device, their audio will automatically be turned off and they will be prompted to connect video regardless of where they are in the room so that all presenters can see them.
Also introduced is a new Teams Rooms meeting design called front row. A functionality specifically designed for hybrid meetings that brings you to the bottom of the screen to your meeting partners: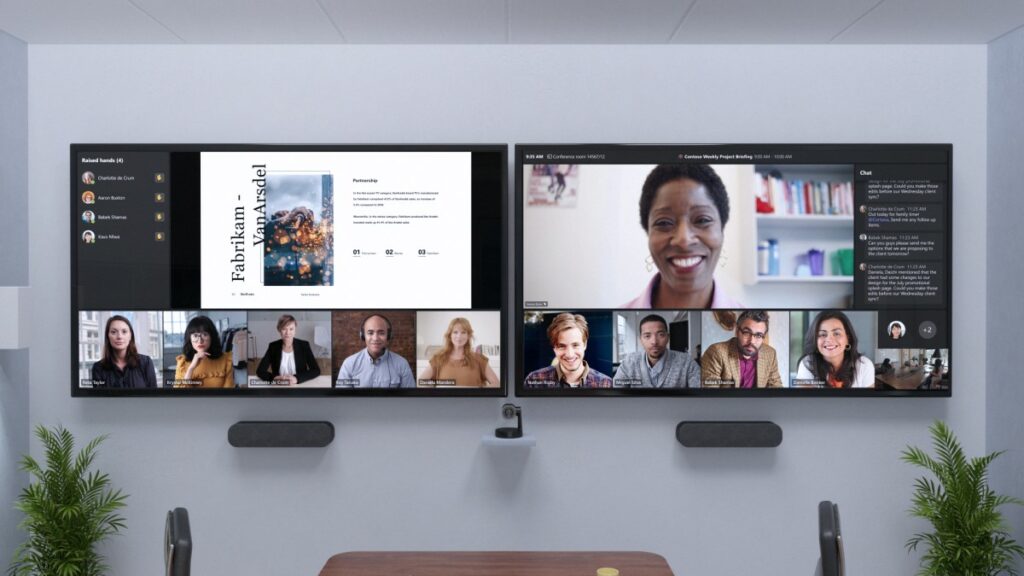 Shorter and more ad hoc meetings
In two years, weekly meeting time has increased by 250%. However, collaboration patterns have been transformed. Meetings are shorter and users are using asynchronous means of communication such as chat.
In this line, a few months ago a cameo was added to Power Point that allows the Teams camera to be integrated into presentations. A few weeks ago, a recording studio was launched that allows you to record your presentation and share it on demand. Now the integration of both functionalities has been announced.