Microsoft Viva is a new platform that digitally supports employees in the systems they use to work on a daily basis.
We had been preparing for the work of the future with hyper-connected and integrated tools for years, but the pandemic accelerated the digital adoption process unstoppably. According to data collected by Microsoft, fall 2020 saw a record 115 million active users in Teams and more than 30 billion minutes of conversations, collaboration and content co-authoring in Microsoft 365. The data speaks for itself, remote work through digital tools has been consolidated over the past year. In this sense, Microsoft has worked on improving and adapting its tools to better meet the needs of users. Now it is introducing a new technology to improve the overall employee experience: Microsoft Viva.
Essentially Microsoft Viva is an employee experience platform that provides digital support across everyday systems. Powered by Microsoft 365 functionality, it is a platform that brings together a set of communications, knowledge, learning and resources. It is available to the user through Teams and other Microsoft 365 daily use apps. Initially it includes 4 modules that will grow to meet more user needs: connections, insights, topics and learning.
Viva Connections
It is a kind of entry portal accessed through Teams and has been configured as a meeting point for employees where they can access all types of internal communications. Viva Connections was born out of the challenge posed by the physical distance imposed by teleworking and, in particular, the difficulties that this can cause for those who have recently joined the company. According to a Microsoft study, nearly 60% of employees feel less connected to their colleagues as a result of teleworking.
Viva Insights
Also accessible through Teams, Viva Insights is designed to help optimize time and reduce burnout from telecommuting. The tool provides users with valuable, personalized information to help them thrive. For example, it helps employees keep in touch with colleagues and set aside time for breaks. For managers, it helps them detect teams that may be on the verge of burnout and offers resources to prevent it. Privacy protection is respected through the use of de-identification and differential privacy. In this way, employees see only their personal perspectives and managers see data generated from aggregated or de-identified information.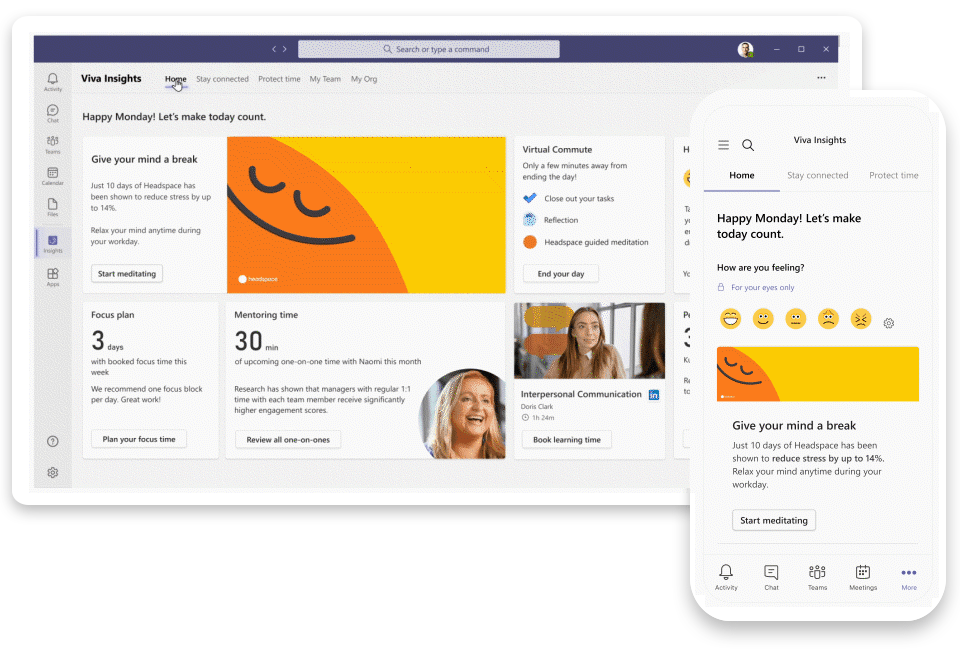 Viva Learning
According to a LinkedIn report, 94% of employees would stay longer at their company if it invested in their learning and development. Training within the organization is very important and, in this sense, Viva Learning aims to encourage the development of a learning culture that is present in both the employee's day-to-day life and the company's strategy. Accessible through Teams, employees can find and share courses and learning content of interest and managers can assign courses and monitor their delivery.
Viva Topics
Viva Topics aims to bring knowledge and information closer to employees by connecting content with artificial intelligence to save search time. In other words, it brings the organization's knowledge closer to the apps that people use every day. For example, when they come across an unfamiliar term, such as a specific acronym, it would be enough to place the course over it and the explanation would appear. It also organizes the organization's knowledge and expertise into identifiable categories.