Major news announced during the biggest partner event of the year: Microsoft Inspire 2021
From July 14 to 16, the classic annual event for the partner community took place: Microsoft Inspire 2021. A new virtual edition in which, as usual, Redmond presented its overall strategy for this fiscal year and announced improvements to existing tools. The strategic direction and innovation and its efforts remain focused on achieving an agile, easy and comfortable hybrid workspace for workers of all types of industry and sector. This effort translates into more integrations and the search for a better balance. We review the main new features of Microsoft Inspire 2021:
More integration between Teams and Dynamics 365
One of the most requested improvements, Microsoft strengthens the integration between two of its star tools: Microsoft Teams and Dynamics 365. Teams users will receive access to view and modify data in Dynamics 365 from Teams at no additional cost. On the other hand, Dynamics 365 users will be able to add Teams meetings at the time they create appointments.
In addition, access to customer information during Teams calls is enabled and notes can be captured during calls and saved in the timeline of the record in Dynamics 365.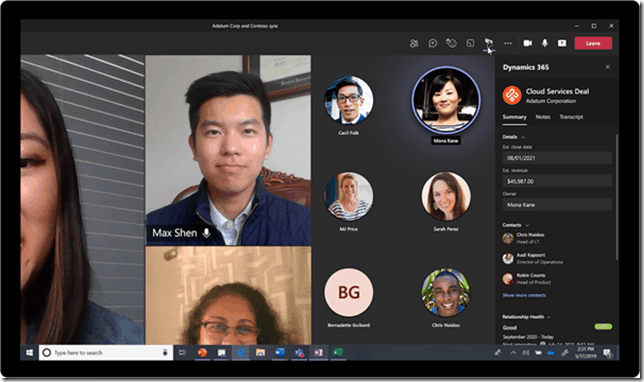 Windows 365: the big announcement of the event
The big news from Inspire was the announcement of the upcoming launch of Windows 365. In line with its strategic approach, Microsoft takes the operating system to the cloud providing the greatest flexibility for workers to connect to their PC from anywhere and on any device. Windows 365 allows connection to a virtual desktop with all data, apps and custom settings on any type of device (Linux, Android, etc.). IT administrators will be able to continue with their configurations and deployments as they did before.
Windows 365 launches on August 2.
What's new in Microsoft Viva
New integrations for Microsoft Viva have also been announced. For example, with Workday, Qualtrics or ServiceNow. This way, customers can integrate the apps and systems that their employees use on a daily basis into the experience stream provided by Viva.
Focusing on sustainability
Another of the company's objectives is the commitment to sustainability and achieving the carbon reduction targets set for 2030 . In this sense, they have presented Microsoft Cloud for Sustainability, a tool to help customers reduce their carbon footprint through technology based on artificial intelligence.
More Azure, more artificial intelligence
Another of Microsoft's objectives is to provide more possibilities for customers to access artificial intelligence thanks to Azure. On the other hand, they are launching Azure Migration and Modernization Program to help companies see what their performance and costs will be like moving from on-premises to the cloud.
Microsoft 365 Lighthouse
Microsoft 365 Lighthouse public beta offering central location and security configuration templates for managing and securing user and device data.