Latest news on hybrid work consolidation: Teams, Viva and Fluid enhancements
As we have already mentioned, Hybrid work is the work paradigm that Microsoft is drawing up. In addition to betting on it, in recent months they are directing their efforts to consolidate the communication tools that allow us to connect from anywhere in an inclusive and immersive way. The goal is that physical distance in a meeting is not an impediment to full and equal integration between those who are in the office and those who connect from home. And, in this sense, Teams is perfecting its meeting experience by making it increasingly natural and interactive, connecting with people inside and outside the company and improving presentations. We review these and other new features for hybrid work:
Hybrid meetings
To encourage the inclusion of all hybrid meeting participants, enhancements have been made to Microsoft Teams and Teams Rooms. Highlights include the following:
A more immersive layout in the front row of Teams Rooms. A new interface is set up in meetings that places participants who are outside the office in the front row at the bottom, so that they are facing those who are physically meeting. In addition, the presentation is placed in the center of the screen and contextual information is given at its margins to guide the participants. The chat is visible on the right side of the screen to encourage fluid communication.
On the other hand, new interactions are introduced for participants such as real-time reactions, focus and the possibility of anchoring videos.
Throughthe Teams smart speakers (available from EPOS and Yealink) - which use Microsoft speech recognition technology - each person speaking in the meeting can be identified. In other words, a speaker transcript of the meeting is obtained, which can also be used to inform people who did not participate in the meeting.
New Teams Rooms in the Surface Hub experience, which is designed for team collaboration. More desktop meeting features and controls are incorporated into the next generation Surface Hub.
A new Whiteboard experience is also integrated, allowing meeting participants to collaborate together on a blank canvas.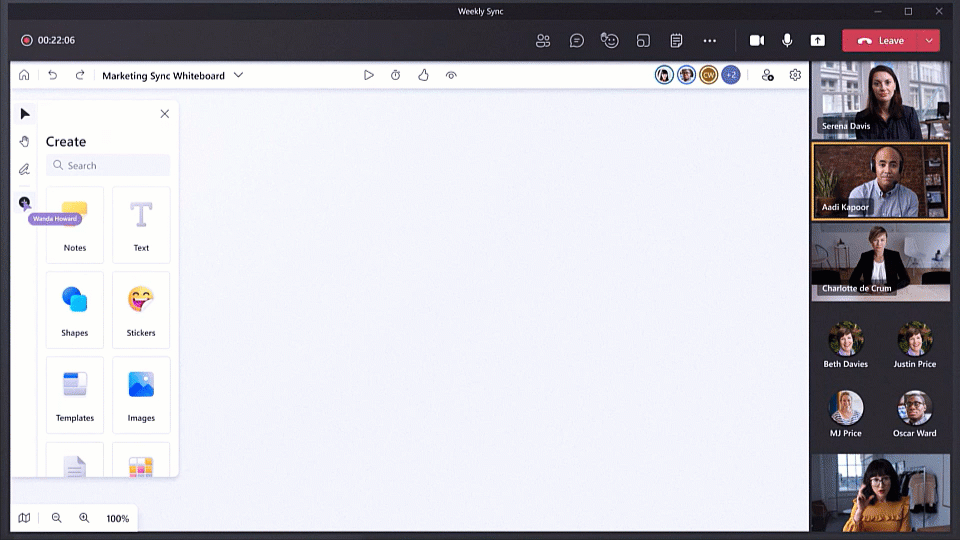 Interesting new features in PowerPoint Live such as slide translation or laser pointer.
Collaborate in the workflow
Fluid components are added to Teams, OnenNote, Outlook and Whiteboard meetings. These components allow you to be more effective in hybrid models by providing context.
More time and team welfare
Microsoft Viva incorporates Headspace. Integrated into Viva Insights in Teams, it is aimed at reducing stress and improving workers' concentration.