Microsoft Dynamics 365 Virtual Agent for Customer Service enables customer service experts to easily create bots with AI-powered ideas. In other words, Virtual Agent offers a graphical bot designer that turns the benefits of artificial intelligence into reality. 
Conversations with bots can quickly resolve many customer issues. This automation allows agents to focus on the most complex cases. Virtual Agent draws on information from Dynamics 365 for Customer Service and other apps to select which cases are automated. 
Enables the customer service team to create bots in a guided, graphical interface without using code. Therefore, without developers or data scientists. 
Review how bots are performing using conversational metrics and different dashboards. Get detailed AI-based information to improve bot performance. 
Enable the bot to act on behalf of the customer! It is possible to integrate the bot with hundreds of services or systems and create customised workflows. 
Virtual Agent for Customer Service is built on Microsoft Bot Framework. 
Dynamics 365 Virtual Agent is available from mid-2019.
One of the challenges is to identify the most impactful issues for automation using bots. Automation must be data-driven, so a solution that analyses all available customer information is needed. In this sense, Virtual Agent is integrated with Dynamics 365 Customer Service Insights. This tool provides views of customer service performance metrics and operations data. All this processed information combines emerging trends with common cases that could be automated. Thus, the support team can choose which issues to automate first. 
The combination of both tools achieves insight to action, i.e. constantly improves the customer experience. This feedback loop allows customer service to identify problems and set priorities and targets. In addition, the results are continuously analysed to deliver the best customer experience.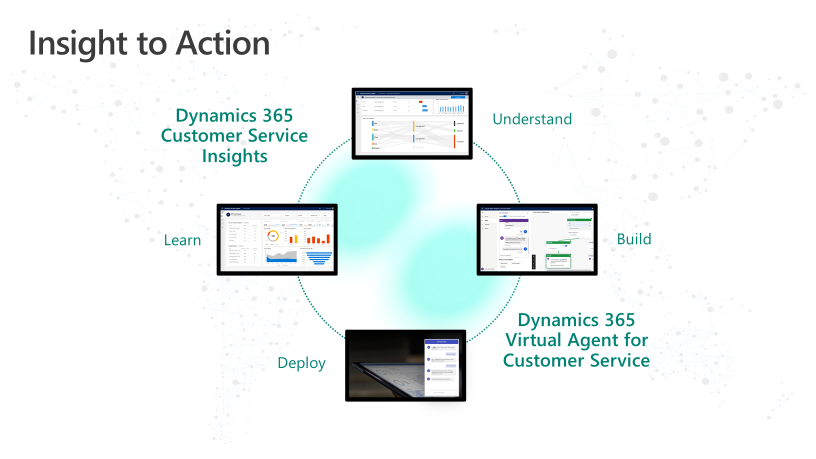 Do you want an appointment with a consultant?
Contact us with no obligation and we will advise you. Start the digital transformation of your company!